About English Driving Courses
Receive full support from staff in English.
Take the practical driving tests at the school with one of our friendly examiners.
We are one of only a few approved schools that conduct instruction in English.
Our original textbooks are used at driving schools across Japan, and English versions are available to foreigners.

Special Support Service
1. We create a customized schedule for you! No additional fees.
Nomally,it costs about 30,000 yen.(Tax included 32,400yen)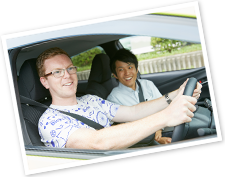 2. No additional fees for extended driving lesson!
Nomally,it costs about 20,000 yen.(Tax included 21,600yen)
3. Free review classes for writen test with your instructor!
You can take review classes even after you graduate from our school. We will support you until you get your driver's license!! In 2012,100% of our students got their temporary licenses!! The success rate of our applicants in Aichi Pref.was 34.4%.
4. Full support at the Hirabari Test Site
You will be driven to the Hirabari test site and assisted throughout the process.
5. Free buses are available on 11 direction/over 130 buses per day
No reservation needed, just wait at the allocated location and raise your hand!

How to get driver's license in Japan
Ninety percent of Japanese citizens take driver's courses when they want to get a license. Why? Because they know that while they could go directly to their local licensing office to take the driver's test, their chances of passing would be low without proper instruction. Driving school students not only pass the test, but also learn how to assess traffic conditions, how to drive safely and how to show consideration for other drivers, so that driving in Japan will be pleasant and safe. After graduating from an approved driving school, students are exempt from taking the driving test at the license test site. (The written test must be taken at the test site.)

The cafeteria and other facilities
There is a cafeteria, convenience store and a cafe on school grounds so that students can relax between classes. There are also free lockers and study rooms available.
Dining, Cafe & Convenience

Day nursery

You can leave your children

in the care of our nursery staff

while you take your lessons.

(Mon-Sat 8:40縲鰀16:50 )

Free Shuttle buses

Our free shuttle buses have 11 different routes.

Alumni Association
Come and meet your fellow students!
The Chubu Nippon International Alumni Association allows
graduates the opportunity and socialize with each other and
with the Chubu Nippon Driver School instructors and staff.
We invite you to join our events too.